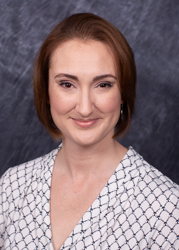 Department
Education
MFA - Dance Performance and Choreography, Florida State University (2010)
BFA - Dance Performance and Choreography, Florida State University (2003)
DIANE BEDFORD
Clinical Associate Professor - Dance Science
Research Interests
Choreography, Improvisation, Ballet, Modern Dance, Dance History
BIOGRAPHY
Diane Cahill Bedford serves as Clinical Associate Professor in the Dance Science Program at Texas A&M University. She holds an M.F.A. in Dance Performance and Choreography (2010) and a B.F.A. in Dance and English Literature, Magna Cum Laude (2003) from Florida State University. Her choreography has been accepted for performance by the WestFest Dance Festival in NYC, Southern Vermont Dance Festival, Austin Dance Festival, Brazos Contemporary Dance Festival, as well as Fieldworks and The Dance Gathering in Houston, TX Diane has also presented her choreography at the American College Dance Festival, Corps de Ballet International Conference, San Jacinto College, Fort Wayne Ballet, The Tallahassee Ballet, and the FSU Opera. In addition to her creative work, Diane has presented on various aspects of dance pedagogy at conferences for The International Association for Dance Medicine and Science (IADMS), The National Dance Educator's Organization (NDEO), National Dance Society, TAHPERD, and San Jacinto College. In 2016, Diane published a preliminary textbook titled Dance in Many Forms through Kendall Hunt. Diane has performed with Jana Hicks Repertory in NYC, Dance Repertory Theatre, The Tallahassee Ballet, and was selected for a reconstruction of Hanya Holm's "Jocose" at the American Dance Festival. She has also had the opportunity to perform in works choreographed by Jawole Zollar, Gerri Houlihan, Terry Creach, Jane Weiner (Hopestone), Darshan Singh Bhuller, Andy Noble, and Lynda Davis. Diane previously taught dance and directed Outreach Programming for FSU, Charleston Ballet Theatre, Fort Wayne Ballet, New England Ballet Theatre, and Ithaca Ballet. Additionally, she served as Professor of Dance at San Jacinto College South where she directed the San Jac Dance PAC.
COURSES TAUGHT
DCED 160/260 (Ballet I) DCED 161/361 (Ballet II) DCED 162 (Ballet III) DCED 172/372 (Modern II) DCED 202 (Dance Appreciation) DCED 301 (Dance History) DCED 306 (Dance Composition I) DCED 401 (Dance Pedagogy) DCED 405 (Career Preparations in Dance) KINE 175 (Gender Neutral Partnering) KINE 260 (Movement Lab: Ballet I) KINE 361 (Movement Lab: Ballet II) KINE 462 (Movement Lab: Ballet III) KINE 199 (Improvisation) KINE 199 (Beginning Ballet) KINE 199 (Modern I) KINE 199 (Modern II) KINE 199 (Pointe) KINE 199 (Yoga 1)
TEXTBOOK
Bedford, Diane Cahill. Dance in Many Forms. Preliminary ed. Dubuque: Kendall Hunt, 2016.
COURSES TAUGHT
DCED160. BALLET I
DCED161. BALLET II
DCED162. BALLET III
2018C,2017C,2016C,2015C,2014C
DCED172. MODERN DANCE II
DCED202. DANCE APPRECIATION
2020C,2020B,2020A,2019C,2019B
DCED260. BALLET I
DCED301. DANCE HISTORY
DCED306. DANCE COMPOSITION I
2020C,2019C,2018C,2016C,2015C
DCED361. BALLET II
DCED372. MODERN DANCE II
DCED401. DANCE PEDAGOGY
DCED405. CAREER PREPARATION IN DANCE
KINE175. GENDER NEUTRAL PARTNER
KINE199. REQUIRED PHYSICAL ACTI
2020C,2020A,2019C,2019B,2019A
KINE260. MOVEMENT LAB BALLET I
2020A,2018A,2017A,2016A,2015A
KINE361. MOVEMENT LAB BALLET II
2020A,2019A,2017A,2016A,2015A
KINE462. MOVEMENT LAB BALLET III
KINE485. DIRECTED STUDIES
KINE491. RESEARCH
SERVICE POSITIONS
National Dance Society, Founding Member and Newsletter Editor, 2015-present
SERVICE POSITIONS
Texas Alliance for Health, Physical Education, Recreation, and Dance, 2017 Performance Past Chair, 2016 Performance Chair, 2015 Performance Chair Elect
SELECTED PUBLICATIONS
Journal Articles
Bedford, D. C. (summer 2017). Capturing Quality Dance Photos and Videos: Understanding Camera Equipment. National Dance Society Journal, 2(1), 43-52.
AWARDS
Richard Stadelmann Faculty Senate Service Award. May 2017. (2017)
EDITORSHIPS
Editorial Board Member. Texas Association for Health, Physical Education, Recreation, and Dance Journal (2015)