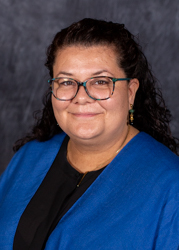 Department
ANA CAROLINA DIAZ BELTRAN
Clinical Assistant Professor
Research Interests
Multicultural Education, Curriculum Theory, Social Studies Education, Global Citizenship Education, Narrative Research
BIOGRAPHY
Dr. Diaz Beltran joined Texas A&M in the Fall of 2019 as a Clinical Assistant Professor of Multicultural Education. She holds a B.A. in Anthropology from Universidad de los Andes in Bogota, Colombia, and a Ph.D. in Curriculum and Instruction from the Pennsylvania State University. Dr. Diaz Beltran taught Social Studies in elementary, middle school, and high school in the large metropolitan city of Bogota, Colombia. At Texas A&M she currently teaches Foundations of Education in a Multicultural Society (INST 222) and Cultural Foundations of Education (EDCI 602). In previous years, she has taught introductory and advanced field experience courses that emphasize the development of anti-racist, anti-sexist, and anti-ableist pedagogies for k-12 students in urban contexts. She has also served as supervisor for pre-practicum teachers in elementary and middle school classrooms in public schools, and in their role as tutors in afterschool programs.

Her research on the living experiences of transnational Latina/o/e/x immigrant youth, aims to answer the question, how can education serve as a relevant source for social transformation, rather than as a tool for assimilation? She approaches this question mostly through narrative and autoethnographic research, building on the work of decolonial, postcolonial, and Chicana feminist scholars of color. Another line of her research centers the living experiences of minoritized students at PWIs and their schooling experiences. She is also co-director of the short documentary Schooling Narratives, which shares the experiences of three families of color as they navigate the school system in State College, PA.

Her fields of study are Multicultural Education, Curriculum Studies, and Social Studies Education.

COURSES TAUGHT
EDCI602. CULTURAL FNDTNS OF EDUC
EDCI647. CURRICULUM THEORY
INST222. FOUND EDUC MULTICULTURAL SOCTY
MEFB450. SOCIAL STUDIES MTHD MIDG