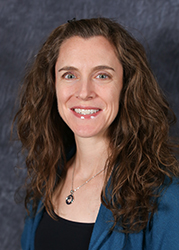 Department
HILDI NICKSIC
Clinical Assistant Professor
Google Scholar Profile
:

Research Interests
Classroom physical activity
Comprehensive school physical activity
Professional Development
BIOGRAPHY
Dr. Nicksic, a native Oregonian, joined the TAMU Division of Health in 2015 after completing her doctorate in Health Behavior and Health Education from The University in Texas in Austin. With over ten years of experience as a public school classroom teacher in grades ranging from kindergarten through seventh, Dr. Nicksic is passionate about teaching and strives to provide students with meaningful learning experiences that facilitate critical thinking and application of content to real life. Her primary interest is classroom physical activity, which refers to student engagement in physical activity within the general education classroom as facilitated by the classroom teacher. Classroom physical activity, a mechanism for academic performance across all levels of education, is one component of the nationally-recognized Comprehensive School Physical Activity Program designed to improve the holistic health of school-aged youth. Dr. Nicksic's research focuses on the dissemination of evidence, resources, and materials to promote physical activity in the classroom. During her tenure at TAMU, Dr. Nicksic has expanded her research to include college students and professional development for collegiate faculty.
Education
Ph.D., Health Behavior and Health Promotion, The University of Texas at Austin
M.Ed., Education, Indiana Wesleyan University
B.A., Education, Linfield College
COURSES TAUGHT
HLTH231. HEALTHY LIFESTYLES
HLTH335. HUMAN DISEASES
HLTH403. CONSUMER HEALTH
HLTH410. WORKSITE HLTH PROMOTION
HLTH410. HLTH PROGRAMS WORKPLACE
2020B,2020A,2019C,2019A,2018C
HLTH429. ENVIRONMENTAL HEALTH
2020C,2020A,2019C,2019A,2018C
HLTH482. GRANT WRITING IN HLTH
2020A,2019A,2018C,2018A,2017C
HLTH640. HLTH INTER & WELLNESS
HLTH641. FOUNDATIONS IN HEALTH ED
HLTH646. HLTH ED TRAINING
2019A,2018A,2017A,2016A,2015C
HLTH 231
Healthy Lifestyles
HLTH 410
Health Programs in the Workplace
HLTH 429
Environmental Health
HLTH 640
Health Intervention and Wellness
HLTH 641
Foundations in Health Education
HLTH 646
Health Education Training