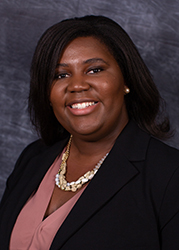 Department
LEANN SMITH
Assistant Professor
Google Scholar Profile
:

BIOGRAPHY
My research answers the question of how racially minoritized youth's developmental outcomes are impacted by supports or challenges present within cultural and social contexts. Specifically I'm interested in the ways in which schools, parents and peers are responsive to the cultural and developmental needs of youth of Color, and in turn, how that leads to resilience. The current projects we are focusing on in the CASCADe lab involve: (1) academic socialization processes between Black adolescents and their parents and peers, (2) racial socialization processes across the lifespan, (3) STEM attrition for Black and Latinx students, (4) race, anti-racism and the training and practice of school psychology.

CASCADe= Cultural Assets and Social Contexts of Adolescent Development


*I am currently accepting doctoral students for the 2020-21 academic year.
**I also welcome undergraduate lab participation in current projects
XL ACADEMY (FACULTY COORDINATOR)
The XL Academy is a semester-long sophomore experience for current TAMU undergraduate students. The program focuses on Black identity development, critical consciousness and leadership. Additional information on the program can be found at https://dms.tamu.edu/xl-academy/.
COURSES TAUGHT
EPSY291. RESEARCH
EPSY491. RESEARCH
SPSY610. CHILD PSYCHOPATHOLOGY
SPSY628. CONSULTATION THEORY
SPSY641. CHILD THERAPY
SPSY644. CHILD THERAPY ADVANCED
SPSY683. FIELD EXPER/EXTERN IN SPSY
RECRUITMENT AND RETENTION SUBCOMMITTEE CHAIR
This subcommittee focuses on recruiting and retaining students within the Division of School Psychology.
RESEARCH INTERESTS
Race & Culture
Academic Motivation, Engagement & Achievement
Youth of Color
School Climate

FORMER DOCTORAL STUDENTS
Martie Camille Belle, Ph.D. (Fall 2021)
SELECTED PUBLICATIONS
Journal Articles
Wang, M.T., Henry, D., Smith, L.V., Huguley, J. & Guo, J. (2019) Parental Ethnic-Racial Socialization Practices and Children of Color[48]19s Psychosocial and Behavioral Adjustment: A Systematic Review and Meta-Analysis. American Psychologist (IF: 3.60), http://dx.doi.org/10.1037/amp0000464.
Wang, M.T., Smith, L.V., Miller-Cotto, D. & Huguley, J. (2019) Parental Ethnic-Racial Socialization Practices and Children of Color[48]19s Academic Outcomes: A Meta-Analytic Review. Child Development (IF=5.024), https://doi.org/10.1111/cdev.13254
Sanchez, D., Smith, L.V., & Adams, W. (2018). The relationships among perceived discrimination, marianismo gender role attitudes, racial-ethnic socialization, coping styles, and mental health outcomes in Latina college students. Journal of Latina/o Psychology, 6(1), 1-15. doi: 10.1037/lat0000077
Trundt, K., Keith, T., Caemmerer, J., Smith, L. V. (2018). Testing for construct bias in the Differential Ability Scales, Second Edition (DAS-II): A comparison among African American, Asian, Hispanic, and Caucasian children. Journal of Psychoeducational Assessment, 36(7), 670-683. doi: 10.1177/0734282917698303
Cokley, K., Smith, L.V., Jackson, S., Stone, S., Saucer, C., Awosogba, O., Hurst, A., Roberts, D., Bailey, M. (2017) Imposter feelings as a moderator and mediator of the relationship between perceived discrimination and mental health among ethnic minority college students. Journal of Counseling Psychology, 64(2), 141-154. doi: 10.1037/cou0000198
Smith, L.V., & Cokley, K. (2017). Stereotype threat vulnerability: A psychometric investigation of the Social Identities and Attitudes Scale (SIAS). Measurement and Evaluation in Counseling and Development, 49(2), 145-162. doi: 10.1177/0748175615625752
Book Chapters
Robbins, P.A., Smith, L.V., & Bentley-Edwards, K.L. (2017). Black Boys & Their Racial Identity: Learning how they fit into society and in your classroom. In E. Moore Jr., A. Michael, & M.W. Penick-Parks (Eds.), The Guide for White Women Who Teach Black Boys (pp. 169-177). Thousand Oaks, CA: Corwin Press
Other Publications and Presentations
Bentley-Edwards, K. L., Smith, L. V., Robbins, P. A. & Adams-Bass, V. N. (2019). Out of the Hood, but Not Out of the Woods: The School Engagement and Cohesion of Black Students Based on Exposure to Violence and Victimization. The Urban Review (IF: 2.081), 1-19. https://doi.org/10.1007/s11256-019-00517-2
RESEARCH PROJECTS
Race, Religion and Health Behaviors of African American Adolescents: Examining Precursors to Cardiovascular Disease
Race, Religion and Health Behaviors of African American Adolescents: Examining Precursors to Cardiovascular Disease
Catapult #5