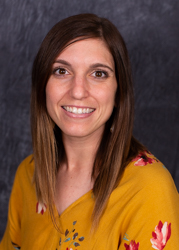 Department
MEG PATTERSON
Assistant Professor
Google Scholar Profile
:

Research Interests
addiction and recovery
college student health and wellness
community heath
interpersonal violence
physical activity and sedentary behavior
social network analysis
BIOGRAPHY
Megan S. Patterson, PhD, MPH, is an Assistant Professor in the Department of Health and Kinesiology at Texas A&M University. Her research focuses on using network analysis to measure how social and spatial networks impact the overall wellbeing of individuals and communities. Her training in research methods and network analysis provides ample opportunities to design, conduct, and collaborate on a variety of studies within behavioral science. Most recently, this has involved using a network perspective to study compulsive exercise and body satisfaction among sorority members, interpersonal violence on college campuses, addiction recovery communities, adolescent physical activity, and inner-city risk networks for long-haul truck drivers, among others. Patterson received her BA in Psychology and MPH in Community Health from Baylor University, and earned her PhD in Health Education from Texas A&M University. Before becoming a professor at TAMU, Dr. Patterson served as the Director of Wellness at Baylor University for five years.
COURSES TAUGHT
HLTH331. COMMUNITY HEALTH
HLTH440. CON ISS COMM HLTH INTERN
HLTH491. RESEARCH
HLTH605. HEALTH RESEARCH METHODS
HLTH684. PROF INTERNSHIP
HLTH685. DIRECTED STUDIES
HLTH690. THEORY OF RES IN DISCI
FORMER DOCTORAL STUDENTS
Mandy Nicole Spadline, Ph.D. (Summer 2021)
Jordan Lindsey Nelon (Summer 2020)
SELECTED PUBLICATIONS
Journal Articles
*Nelon, J. L., De Pedro, K. T., Gilreath, T. D., Patterson, M. S., *Holden, C. B., & *Esquivel, C. H. (2019). A latent class analysis of the co-occurrence of sexual violence, substance use, and mental health in youth. Substance Use and Misuse. 54(12), 1938-1944. doi: 10.1080/10826084.2019.1618337
Patterson, M. S. & Goodson, P. (2019). Social network analysis for assessing college-aged adults[48]19 health: A systematic review. Journal of American College Health, 67(1), 59-67. doi: 10.1080/07448481.2018.1462820
Patterson, M. S., Prochnow, T., & Goodson, P. (2019). The spread and utility of social network analysis across a group of health behavior researchers. Health Behavior Research, 2(4). doi: 10.4148/2572-1836.1063
Wigfall, L. T., Sherman, L., Garney, W. R., Patterson, M. S., Montiel Ishino, F. A., & Vadaparampil, S. T. (2019). Are healthcare providers making the most of patient encounters to promote HPV vaccination for persons aged through 25 years at-risk for cigarette smoking? Patient Education and Counseling, 102(1), 180-188. doi: 10.1016/j.pec.2019.07.026
Wilkerson, A. H., *Bridges, C. N., Wu, C., *McClendon, M. E., Walsh, S. M., Patterson, M. S., & Umstattd Meyer, M. R. (2019). Process evaluation of the BearStand behavioral intervention component: A social cognitive theory-based strategy to reduce occupational sedentary behavior. Journal of Occupational and Environmental Medicine, 61(11), 927-935. doi: 10.1097/JOM.0000000000001704
Patterson, M. S. & Goodson, P. (2018). The role of ego networks in compulsive exercise behavior among college sorority women. Journal of Physical Activity and Health, 15(10), 755-762. doi: 10.1123/jpah.2017-0570
*Shaikh, H. M., Patterson, M. S., Lanning, B., Umstattd Meyer, M. R., & *Patterson, C. A. (2018). Assessing college students' use of campus recreation facilities through individual and environmental factors. Recreational Sports Journal, 42(2), 145-159. doi: 10.1123/rsj.2017-0033