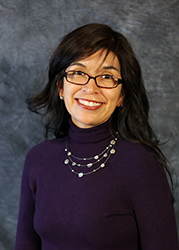 Department
Afilliations
Bilingual and English as a Second Language Education
MONICA VASQUEZ NESHYBA
Clinical Associate Professor
Research Interests
Bilingual/ESL Education
Critical Pedagogy & Transformative Education
Culturally & Linguistically Diverse Populations
Examinations of Race, Class, Gender in the Sociology of Education
BIOGRAPHY
A Ph.D. graduate in Curriculum and Instruction: Bilingual and Bicultural Education at UT Austin, Monica Vasquez Neshyba has been involved in education for twenty years in various roles, including bilingual (Spanish/English) tutor, elementary teacher, bilingual curriculum coordinator, English as a second language/sheltered instruction strategist and English language learner assessment coordinator for central Texas school districts. She has also served as a program specialist for the Texas Education Agency in the Division of Student Assessment - Department of English Language Learners. In 2010-2012, she taught graduate courses for the online Masters of Arts in Teaching (MAT) program for the University of Southern California.

Dr. Neshyba received her B.A. in Spanish from UT Austin and a M.Ed. in Elementary Education from Texas State University. She has presented at various local, state and national conferences on a variety of topics concerning English learners, including literacy, second language acquisition, gifted and talented education, and cultural and linguistic diversity. Dr. Neshyba's dissertation focused on how a high school mariachi class (offered as a course) can serve as a conduit for students' expression of identity and hopes to continue to research classrooms in various contexts as safe spaces for linguistic and cultural expression.
Education
Ph.D., Curriculum and Instruction, Bilingual/Bicultural Education, University of Texas at Austin (2012)
COURSES TAUGHT
BEFB426. EFFECT INSTR HISP STUDNT
EDCI485. DIRECTED STUDIES
EDCI602. CULT FOUND OF EDUC
EDCI602. CULTURAL FNDTNS OF EDUC
EDCI610. SCND LANG ASSESSMENT&DEV
EDCI611. TEACHING ESL
EDCI612. BIL/ESL CONTENT-AREA
EDCI634. REFLECTIVE INQUIRY
EDCI640. LG/LIT BIL/MUL YG LRNR
EDCI644. CURRICULUM DEVELOPMENT
EDCI645. SOC&EDUC IN WORLD PERS
EDCI648. URBAN SCHOOLS & COMMUN
EDCI650. BIL/MUL CHILD FAM/CUL
EDCI673. ANLYS OF TCHNG BEHAVR
EDCI680. PROSEMINAR
2020C,2019C,2019B,2018B,2017B
EDCI683. FIELD PRACTICUM
EDCI684. PROF INTERNSHIP
EDCI685. DIRECTED STUDIES
EDCI689. SPECIAL TOPICS IN
EDCI692. PROFESSIONAL STUDY
2020B,2020A,2019C,2019B,2019A
EDCI710. HISP LEARN URB SETTINGS
INST222. FOUND EDUC MULTICULTURAL SOCTY
INST322. EDUC MULTICULTURAL
INST362. ESL METHODS I
2020C,2020A,2019C,2018A,2016C
INST363. ESL METHODS II
2020C,2020B,2020A,2019A,2018C
INST463. ESL METHODS II
INST463. SEC LANG METHOD ESL BIL
INST491. RESEARCH
RDNG468. ESSEN FOUND LANG LITERACY
RDNG472. TCHWRITING IN ELEM & MS
FORMER DOCTORAL STUDENTS
Ashley Andrea Leverett, Ed.D. (Summer 2021)
Lanora McNeil, Ed.D. (Summer 2021)
Adam Christopher Whitaker (Summer 2020)
Darlene Marie Messer (Summer 2020)
Jose Luis Zelaya (Fall 2019)
Seung Han Yoo (Fall 2019)
Delia Maria Cruz-Fernandez (Summer 2019)
Abby Williams Morris (Summer 2019)
Sarah Elizabeth Baker (Summer 2018)
Angelia Horton Knight (Fall 2017)
SELECTED PUBLICATIONS
Books and Monographs
Bryan, K. & Neshyba, M. (2016). ESL methods for equity and achievement. (Preliminary Edition [8211] Online Only). Dubuque, Iowa: Kendall Hunt. ISBN: 978-1-5249-0944-4
Journal Articles
Hu, X., Xu, Z., Neshyba, M. Geng, Z & Turner, R. (2020). A multi-dimensional model: Implications for preparing pre-service teachers' for culturally responsive teaching. Asia-Pacific Journal of Teacher Education, https://doi.org/10.1080/1359866X.2020.1753169 [published with student]
Book Chapters
Neshyba, M. (2018). Latinx and education: Shattering Stereotypes. In Carter, N. & Vavrus, M (Eds.). Intersectionalities of Race, Class, and Gender with Teaching and Teacher Education: Movement Toward Equity in Education. Leiden, Netherlands: Brill
AWARDS
Selected as one of six TAMU faculty for the Aggies Celebrate Teaching! – Recognizing Transformational Learning Award by the Center for Teaching Excellence.