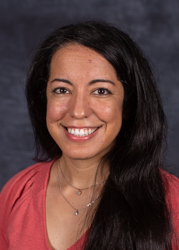 Department
CONNIE BARROSO (GARCIA)
Assistant Professor
Google Scholar Profile
:

Research Interests
Mathematics Affect
Mathematics Anxiety
Intelligence Mindset
Achievement Emotions
Achievement Motivation
Beliefs about ability
BIOGRAPHY
*Dr. Barroso is currently recruiting a Ph.D. student for the Fall 2023 semester*

Dr. Connie Barroso (Garcia) is an Assistant Professor in the Department of Educational Psychology in the School of Education and Human Development at Texas A&M University. She has been a Visiting Assistant Professor and ACES Fellow in this department for the past two years. She received her Ph.D. in Developmental Psychology from Florida State University in 2020. Her research focuses on understanding the beliefs, attitudes, and emotions surrounding the subject of math and how these affective factors are associated with math achievement, STEM career interest, and other achievement outcomes.
Education
Ph.D., Developmental Psychology, Florida State University (2020)
M.S., Learning and Cognition, Florida State University (2016)
B.S., Psychology, Florida State University (2013)
COURSES TAUGHT
EPSY602. Educational Psychology
EPSY673. Learning Theories