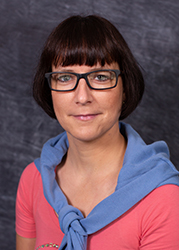 Department
FLORINA ERBELI
Assistant Professor
Scholar@TAMU Profile
:

Google Scholar Profile
:

Research Interests
typical and atypical reading development
predictive factors of reading achievement
dyslexia and other forms of reading disabilities
PROSPECTIVE STUDENTS
Dr. Erbeli will be accepting doctoral students for Fall 2022 admission. Full funding is available through the RISE Scholars Network project for the 5-year duration of the Ph.D. program. Please see the website risescholarsnetwork.org for more information about the RISE project, including how to apply.
SELECTED PUBLICATIONS
Journal Articles
2022
Little, C. W., Erbeli, F., Francis, D., & Tynan, S. (in press). Developmental trajectories for literacy and math skills from primary to secondary school. Journal of Research in Reading.
Erbeli, F., Rice, M., & Paracchini, S. (2022). Insights into dyslexia genetics research from the last two decades. Brain Sciences, 21, 27. https://doi.org/10.3390/brainsci1201002 [published with student]
Perdue, M. V., Mahaffy, K., Vlahcevic, K., Wolfman, E., Erbeli, F., Richlan, F., & Landi, N. (2022). Reading intervention and neuroplasticity: A systematic review and meta-analysis of brain changes associated with reading intervention. Neuroscience and Biobehavioral Reviews, 132, 465-494. https://doi.org/10.1016/j.neubiorev.2021.11.011 [published with student]
Erbeli, F. (accepted). Reading profiles may not be an informative approach to identify at-risk readers in middle school. Croatian Journal of Education.
AWARDS
2021 Early Career Researcher Award, International Dyslexia Association. Description: International early career research award in recognition of innovative research that is very likely to have a positive impact on the lives of individuals with dyslexia.
2021 Early Career Research Excellence Award, College of Education and Human Development, Texas A&M University. Description: College level early career research award for significant contributions to research in the field.
2020 Outstanding Research Award, Department of Educational Psychology, Texas A&M University. Description: Departmental award for research contributions and impact.
2019 The Rebecca L. Sandak Young Investigator Award, Society for the Scientific Study of Reading. Description: International early career award recognizing Dr. Erbeli as a gifted young reading researcher who shows outstanding promise and dedication to the field.
2017 Travel Award, Office of Postdoctoral Affairs, Florida State University.
2015 The Janette Klingner Award, International Academy for Research in Learning Disabilities (IARLD). Description: Best poster award at the IARLD Conference, Vancouver, BC, Canada.
OTHER NOTED ACCOMPLISHMENTS
2020 ADVANCE Faculty Success Fellowship, Dean of Faculties, Texas A&M University. Description: Professional development fellowship designed to support research productivity and maintain work-life balance.
2019 Kay and Jerry Cox Fellowship, Texas A&M University. Description: Research fellowship for first-year Texas A&M faculty.
2013, 2012, 2011 Dissertation Fellowship, University of Ljubljana, Slovenia.
2002 Austrian Academic Exchange Service (OeAD) Fellowship, Austria. Description: Research fellowship to complete a BA degree at University of Vienna, Austria.
2001 German Academic Exchange Service (DAAD) Fellowship, Germany. Description: Research fellowship to complete a BA degree at University of Leipzig, Germany.
RESEARCH PROJECTS
Collaborative Intervention Design: Doctoral Training Program Partnership with TAMU, UTN, UNE.
Remapping Reading Profiles of Children with Reading Disabilities Using Machine Learning Techniques.
A Machine Learning Approach for Identification and Risk Prediction of Reading Disability Status.
Effective Early Literacy Screeners for English Language Learners